Tori Harris
History Teacher, Advisor
Classes: World History, US History, Government, Economics, Activities/Leadership
Education: Masters Degree in Education, UC Santa Barbara Bachelor's Degree in Psychology and Educational Studies, UC Davis Teaching Credentials
Email: tharris@bitneyprep.net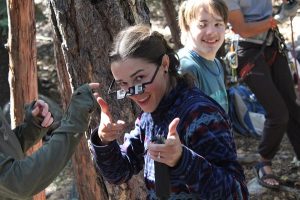 I was raised in Nevada County and I had planned on leaving this area after high school. I went to UC Santa Barbara and, about 4 months after leaving, I realized that I shouldn't have gone so far away and that I really think this community is unique. The plan since then had always been to come back. After UC Santa Barbara, I did my teacher education program at UC Davis. I have always felt that I was supposed to be a teacher. My favorite game to play when I was little was school and the first time I was told that I needed to be a teacher was when I was seven. So my whole life, I've been told that I should go into teaching or public speaking, just something along the lines of working with people. In high school, I was an intern with Big Brothers/Big Sisters and I was also involved with leadership, so I was always in a Teacher role.
When I started applying for jobs three years ago, I was looking for anywhere near the Nevada County area and I saw the posting for the Bitney Prep High School. I came and interviewed and that's when I fell in love with the Big Picture Learning model and the students. In my experience, at other schools, the curriculum is very departmentalized and no one really talks to each other in different departments. By going with the Big Picture Learning model, you are connecting all of those areas of curriculum, all of those areas of life, and making what you're learning applicable to life. The Internships are super unique too, and we can truly say that we are preparing students for life after high school by using Big Picture Learning. That's really cool.
What keeps me inspired is a deep calling, and other people telling me this is what they see me doing. What keeps me coming back every day is the students. I love all of my students and I like that I can have real relationships with them. And being a small school really allows us to have our motto "One student at a time" and actually stick to it. And I've never met such a tight-knit staff that truly care about each other as much as here and I can say that the other teachers are some of my best friends now.