Mentor: Lenka Vodicka, Lenkaland Photography
Student: Aidan Brancroft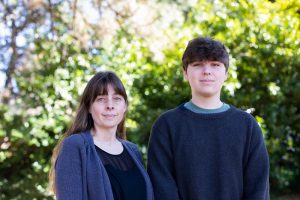 Aidan Brancroft from the Class of 2021 is interning at Lenkaland Photography with his mentor Lenka Vodicka. Lenkaland Photography is a professional company that photographs weddings, events, and families. They make art, celebrate life, and connect with families. Through Lenka's mentorship, Aidan is learning to document the natural moments by being attentive and building the skill-set to photograph unobtrusively. Not only is this internship helping Aidan hone his skills as a photographer, but he's also learning first hand what it means to run a successful photography business.
Lenkaland Photography has won awards from Artist World Magazine and others, including a Blue Ribbon for Professional Photography at the Nevada County Fair. As well, their images have appeared on HGTV, The Celebration Society, Buzzfeed, Skin Wars Show, Airstream, and more.
To find out more about Lenkaland Photography, check out their website here: https://www.lenkalandphotography.com/