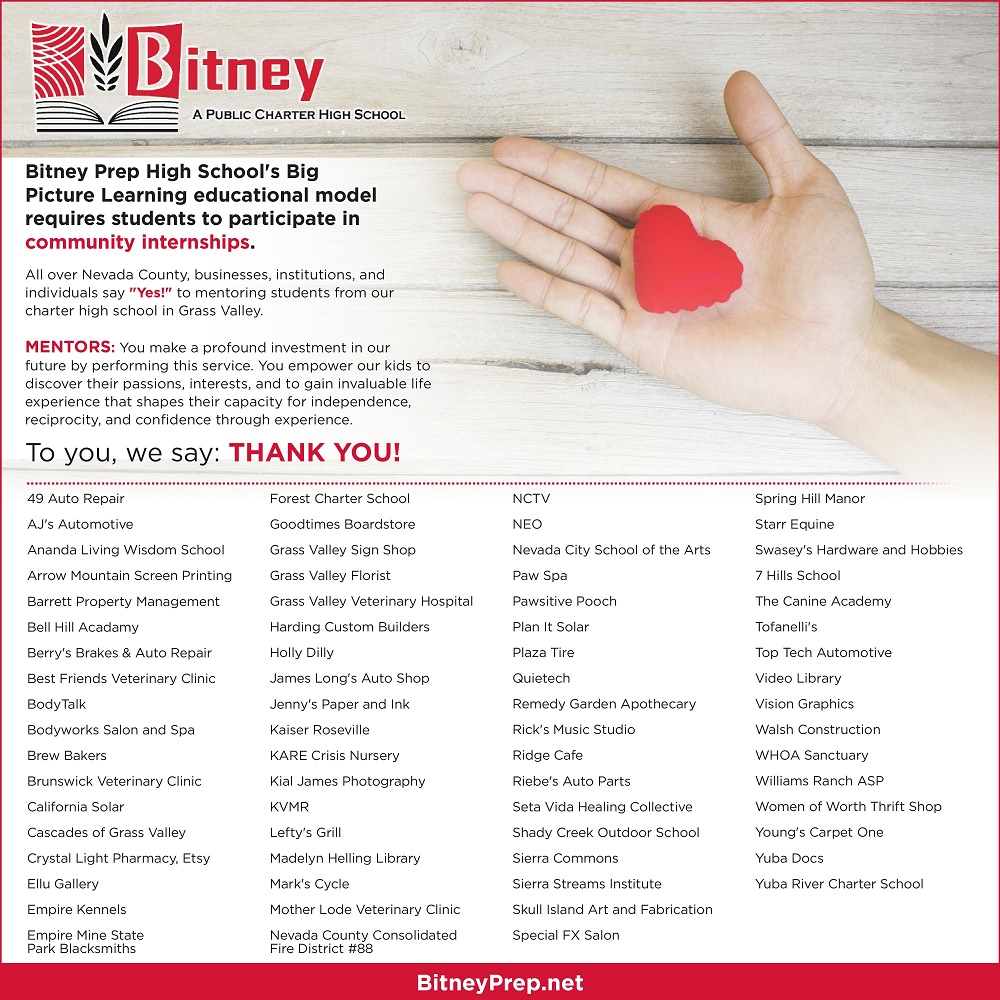 What If High School Kids Could . . .
Weld a bike frame? Edit digital video? Take a patient's blood pressure? Cut and color hair? Organize a volunteer awards dinner? Build a gazebo? Install a hard drive? Host a radio show? Plant a garden? Repair a vacuum cleaner? Spay or neuter a dog? Change a diaper? Manage a spreadsheet? Construct a window display? Help with homework? Letter a sign? Design a photovoltaic system? Teach a class? Plant a tree? Wire a switch?
THEY CAN! Since 1999, Bitney College Prep has been inspiring students to be ready for life and relevant to the world. We believe collaborative relationships with local businesses, public agencies, non-profits groups and individuals help provide students with profound curiosity, and inspire both a love of learning, and a more clear sense of self-direction.
Continuing for Fall 2018: In a Big Picture Learning model, students intern for one full school day each week. Open for 30 students. Find out more!
True education takes place out in the world as much as in the classroom, so we encourage our students to see beyond "four walls and a white board."
Whether working for wages, taking classes at college or online, volunteering in the community, or learning career-specific skills with working professionals, our students benefit from expanded access to real-world experiences.
If you want more information, or if you are a Bitney student interested in signing up for an internship, please check out the following links. We'd love to put you to work!
More Questions?
---
Ready to move forward becoming an intern?
Internship Brochure
Student Documents:
Student Internship Application Form (online)
Bitney Student Internship Packet Forms (downloadable PDF)
Individual Documents contained in student internship application packet:
Student Internship Application Form
Parent permission form
Counselor Recommendation form
Faculty Recommendation form
Early Dismissal Form (online)
Read our Employer Profile:
Learn how this local business benefits from the Internship Program.
Ellu Gallery
We rely on collaborative partnerships with local entities, including:
AJA Video, Burst Technologies, Four Paws Animal Clinic, Nugget Auto Body, Synthetic Unlimited Theater Company, TJ's Auto Spa, Upstream Design, Center for the Arts, The Union, KVMR, NCTV, Nevada City Film Festival, and many more in the works…
Host Employer Documents:
Employer Application Form
Bitney Internship Employer Packet (downloadable PDF)
Individual Documents contained in the Employer Internship Packet:
Employer Application Form
Memorandum of Understanding
Facts for Employers
Confirmation of Coverage Doc
DOE B1-6
Supervisor Assessment of Student Intern Form
If you have questions regarding any of these documents, please contact us at (530)477-1235.