Mentors: Sean Dooley, KVMR Music Director; Dave "Buzz" Barnett, KVMR Chief Engineer
Students: Justus Brooks, Ezra Echols, Josh Pryor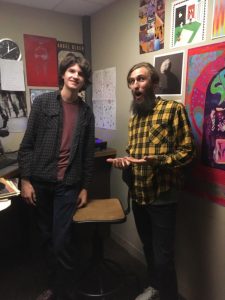 Justus Brooks from the class of 2021 has his internship at KVMR working with his mentor, Sean Dooley, KVMR's Music Director. Class of 2020 members Ezra Echols and Josh Pryor also intern at KVMR, under the mentorship of Chief Engineer Dave "Buzz" Barnett.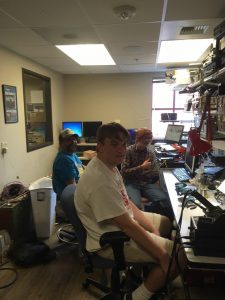 While Justus is mostly focused on the music side of broadcasting, Ezra and Josh are learning all the back-end stuff necessary in running a radio station: from enhancing the sound of KVMR, to facilitating live broadcasts of events, to building and repairing new transmission sites, to fixing the tech around the station.
All three of these interns are following their passions, whether it be in front of the microphone or behind it. Ezra especially hopes to pursue a career in engineering and feels lucky to have had a mentor like Buzz who has taught him so much.
Having been on the air since July 14, 1978, KVMR provides community members opportunities to connect through the development and production of music, news, and public affairs programs that entertain, inform, and educate, while at the same time giving "voice to the community" and celebrating the music of the world.
You can find out more about KVMR by visiting their website at https://www.kvmr.org/