Mentor: Halli Ellis-Edwards, NEO
Students: John Waddell, Elijah Rameriz, JudeWebb, Erink Jackson, Avery Daniels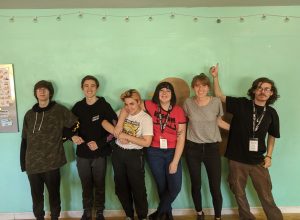 John Waddell (class of 2022), Elijah Rameriz (class of 2022), Jude Webb (class of 2020), Erin Jackson (class of 2021), and Avery Daniels (class of 2021) are all learning the ins and outs of youth empowerment from their mentor Halli Ellis-Edwards while interning at NEO.
NEO was started in 2008 by Ellis-Edwards and her friend, Lynn Skrukrud. Both Ellis-Edwards and Skrukrud grew up in Nevada County and saw the devastating impact that was caused by the lack of positive things for youth to do in our rural community. NEO started as a drug prevention organization, but over the years has evolved to focus on a more holistic approach to health and wellness.
Bitney's cadre of interns helps NEO in its mission to engage young people to make healthy choices through positive alternative activities. From running drama classes to power tool training, art instruction to making snacks, Bitney interns are an integral part of Wednesday's activities at NEO's Youth Center on Joerschke Drive (right next to Bitney itself). They also help with a variety of activities including a playing pool, making crafts, playing video games, board games, sports, tutoring, and more. In addition, they can be found assisting free workshops such as yoga, video game design, cooking, and photography.
To find out more about NEO, check their web site at https://neoyouthcenter.org/